RVRSA has received the following awards:
Environmental Protection Agency (EPA)
• EPA Region 2: O & M Excellence Award; Category: Large Advanced Treatment, 2003
• EPA National: National Second Place, Clean Water Act Recognition Award, for Operations & Maintenance, Excellence Large Advance Treatment, 2003
Association of Environmental Authorities (AEA)
Wave Award: Forward Thinking Award, March 2016
Wave Award: Competitive Authority Award, March 2004
Wave Award: Community Outreach Award, March 2004
New Jersey Utility Authorities Joint Insurance Fund
Annual Safety Awards 2007 – 2013; 2015 – 2018; 2020 – 2022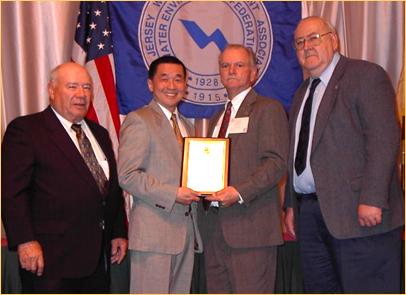 Left to right: Edward Secco, Dover Representative, Edward Ho, Executive Director of RVRSA accepting the O&M Excellence Award, John C. Mello, Chief of Construction Grants Section, USEPA Region II presenting the award, and the late Robert W. Busch, Jr., Chairman of the RVRSA and representative from Boonton Twp.
EPA Commends Environmental Achievers in New Jersey
Release date: 04/26/2007
Contact Information: Rich Cahill (212) 637-3666, cahill.richard@epa.gov
(New York, N.Y.) In celebration of Earth Day, the U.S. Environmental Protection Agency (EPA) today honored ten individuals and organizations for their outstanding efforts to protect the environment in New Jersey. Regional Administrator Alan J. Steinberg presented EPA's Environmental Quality Awards at a ceremony in EPA's offices in Manhattan. Mayor Cory Booker of Newark, New Jersey delivered the keynote address.
"EPA applauds the tireless dedication of the award winners, who are truly environmental champions," said Regional Administrator Alan J. Steinberg. "Their extraordinary contributions make our world a better place and remind us that individuals really can make a difference."
2007 ENVIRONMENTAL QUALITY AWARD WINNERS
One of the recipients of this acclaimed award was bestowed to:
Natalie Pisarcik
Boonton, New Jersey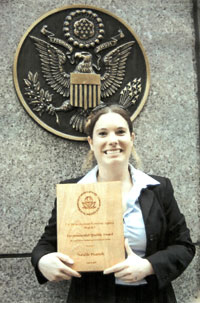 Natalie Pisarcik, a resident of Boonton, New Jersey, is an advocate for a cleaner Rockaway River. She is treasurer and past secretary of the Rockaway River Watershed Cabinet and past president and co-founder of the Rockaway River Coalition. Natalie became involved with the local chapter of the Appalachian Mountain Club and, along with other club members, has conducted numerous canoe cleanups along the Rockaway River. To date, she and her fellow environmentalists have successfully pulled out nearly 100 used tires from its waters, along with 130 bags of trash.